Awesome members of #womeninlaw representing this platform at the
@WOWPKcommunity career series this week:
Catch:
@noorejazch, @WaizaRafique, @RJFatimaKhan and #shizarehman in conversation with @ZeeaHasanTalib
on Wed 8th July at 4 pm on wowpk Facebook page live.
Last year on 7th July we launched our #womeninlaw Islamabad chapter and today we are celebrating its 1st birthday.
In this time our Islamabad family has grown, we started the journey with our session titled, 'from access to advancement' last year where sitting MNA #ShandanaGulzarKhan joined us as our Chief Guest and where Umair Baloch then secretary IHCBA graced the occasion as our Guest of Honour.
We also launched the career development series with the amazing Sarah Kazmi, had mentoring session with select candidates under a programme led by #KhadijaAli, shared several job and learning opportunities with the members, found ourselves a Chapter Lead in Islamabad in Jugnoo Kazmi and supported an event by Chevening Alumni on Gender and Law held in March.
Today, to mark the 1 year of women in law and its efforts in Islamabad, we spoke to the Legal Education and Gender Committee of Islamabad High Court Bar Association and are grateful for the opportunity to share our experiences and our journey on their platform.
Support and Solidarity are the crux of this initiative and we are happy to have received that and a lot more from everyone in Islamabad who has been so supportive and welcoming of us and of the initiative and its objectives.
Our special thanks to Advocate Rahat Kaunain Nafees, Ayesha Siddique Khan, Minahil Khan, Huma Jameel Babur, #AmnaAbbas, Benazir Jatoi, Hina Fk and all the members of the Islamabad chapter for their contribution to make this a success.
A shout out to those who supported the launch from Lahore last year and went all the way to Islamabad with us:
Waiza Rafique Maria Chaudhry Maryam Khan Alizeh Akbar Meer
RE: WITHIN THE STATE, WITHOUT IDENTITY: STATELESSNESS IN PAKISTAN
At 3 pm tomorrow we have a very important session on a topic that has not been discussed so often. To join: send us your name, designation and contact details at info@learnpak.com.pk
Duration: 1 Hour.
After the overwhelming response we have managed to arrange this follow up session for the Q and A so all your queries can be addressed.
There will be no recording for this session so please ensure participation for the Q and A.
All prior questions will also be taken up and new ones may also be pre-shared at the email given. Looking forward to your wholehearted participation again.
For login details write to betinomisogyny@gmail.com by or before 25th June 2020.
On Saturday, 20th June 2020, Lahore Education and Research Network (LEARN) hosted an in-house discussion on 'The Perils of Social Media: Mental Health and Diminishing Space'. The discussion was organised with support from Ms. Jugnoo Kazmi who is the Women in Law Initiative Pakistan's (WIL) Chapter Lead in Islamabad.
The participants for the discussion included, Ms. Valerie Khan Executive Director of Group Development Pakistan, Ms. Zoe Richards , lawyer and women's rights activist, Ms. Elaine Alam, General Secretary, Faces Pakistan, Mr. Hisham Khan from Pakistan Youth Change Advocates, Ms. Umaima Tahir Wadood, journalist and online blogger, Ms. Ramla Baig, advocate, Barrister Maryam Khan, Ms. Asha Singhania, WOZA – Women in Law South Africa, Ms. Jannat Ali Kalyar, Cyber Laws and Digital Security practitioner, Ms. Zeeba Hashmi, peace education consultant , Ms. Eamaan Bandial, advocate, Ms. #ImaanMazari, advocate, Ms. Ayesha Siddique Khan, advocate and gender rights activist, Ms. #BenazirJatoi, advocate, Ms. #MahnoorWaqar, advocate, Ms. #FatimaAwan, HR Executive Getz Pharma, advocate #MaimanaKhattak and advocate #NoorMandvivala.
The discussion was moderated jointly by Ms. Nida Usman Chaudhary, founder LEARN & Women in Law Initiative, Pakistan and Ms. Jugnoo Kazmi, WIL- Islamabad Chapter Lead.
The discussion aimed to look at some of the perils of social media and to take stock of how those may affect different vulnerable groups particularly in the context of their diminishing space and freedom of expression as well as the mental health implications of the online violence and abuse.
One of the leading questions under discussion related to the politicisation of social media and whether that was a factor affecting diminishing online space and creating mental health implications.
In recent years, the use of social media has been revolutionised and there is increased reliance on digital tools and platforms to do business, access education and to communicate with one another. The COVID-19 pandemic has further exacerbated the dependence on technology and therefore, the harmful impacts of social media can very easily target women, children, minorities, mothers, youth, certain professionals and the elderly in their own respective ways.
The participants endeavoured to identify the different sets of perils each class of persons was likely to face in their online engagement and interaction and put forth the challenges faced by lawyers, concerned authorities, and regulators in relation to creating a balance between competing rights and interests and in regulation, if any.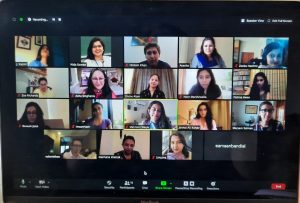 The question of who should regulate and how was also discussed as were the many perils that are associated with the regulation of use of social media.
A detailed report with key discussion points, recommendations and findings will be shared soon.
Watch this space for further updates.
Has politicisation of social media led to diminishing space and poor mental health?
We held an in-house discussion to take stock of this and other challenges for vulnerable groups including children, women, minorities, youth and the elderly; see:
Thursday, 4th June 2020: Women in Law Initiative Pakistan in association with BETI organised an online session on the legal rights and responses in England and Wales to stranded spouses in Pakistan. The session was led by Barristers Semaab Shaikh and Susie Sanders from Broadway House Chambers, UK.
Barrister Semaab opened the session with a definition of a 'abandonment' as laid down in the Practice Direction 12 J of Family Procedure Rules 2010 and highlighted the gendered aspect of the definition explaining that it only applies in the case where a husband who is a UK national abandons his foreign national wife in order to prevent her from asserting residential or matrimonial rights in the UK.
She also highlighted that the spouses most vulnerable to abandonment are those who have suffered some form of domestic abuse and retention of their passport and other documents by their in-laws or husband. These are typically the spouses who are financially and otherwise dependent on their husbands for their accommodation and immigration status and who may have little or no English language skills which makes them more susceptible and vulnerable to such abuse.
The immigration rules in UK currently have limited rights for spouses who may be victims of domestic abuse in UK. The concession allows survivors of domestic abuse to apply for indefinite leave to remain however, such a concession is only available where the applicant is in UK and must show that the relationship broke down as a result of the abuse suffered. Stranded Spouses in jurisdictions outside of the England and Wales, such as when wives are abandoned back in Pakistan, have no rights to access this concession even if they have children or financial resources in the UK.
The approach of the family courts, particularly of Mrs. J. Hogg in leading cases suggests that the courts are more open to considering the peculiar position of stranded spouses and have pleaded to the immigration authorities to allow the mother to enter the country for the purposes and duration of proceedings in the family court at least.
The speakers then spoke about their own recommendations on what needs to change within UK so as to make the legal position better for stranded spouses such as for instance ensuring that abandonment is recognized a s a form or type of domestic abuse within the definition of domestic abuse in the proposed Domestic Abuse Bill. The speakers also highlighted what lawyers based in Pakistan could do to assist such clients from Pakistan; in particular, Barrister Susie laid stress on the need to create awareness in Pakistan among women BEFORE they get married to foreign nationals so that they are aware of their rights, legal position and remedies to access justice. Writing letters to MPs in UK and explaining the legal position and factual circumstances of the victims was also recommended.
There is clearly a need for more cooperation amongst the agencies in both countries for meaningful assistance to be provided to the affected persons in such scenarios.
Contact: info@learnpak.com.pk
Thursday, 23rd April 2020: On the World Book and Copyright Day 2020, celebrated by UNESCO on the 23rd of April annually, the Lahore Education and Research Network (LEARN) and The Writing Institute jointly organized an online session on 'Piracy and the Writing Industry'.
This session also marked the one year celebration of #RethinkingWriting as an industry – an initiative by LEARN to promote authors, and support writers, publishers and other agents involved in the literary process via creating awareness around their labour and highlighting their pressing and collective needs as an industry to secure their rights. It further aimed to create awareness around writing as an industry at a macro level, so that writing as a craft can be rethought of as a career path for those who wish to pursue this professionally. The initiative endeavoured to create awareness around need for creating an enabling environment and for developing the infrastructure for the work Pakistani writers to cross over to larger markets. In this regard, several policy changes that are required were highlighted and engaging sessions and discussions were organized to develop a collective voice identifying the challenges and enlisting the recommendations for reform and way forward for Pakistan to be able to take its stories, its legends and its softer image to a global audience.
Authors Faiqa Mansab, Sara Naveed, Mehr F Husayn and Awais Khan joined the conversation as panelists. The conversation was moderated by Nida Usman Chaudhary, founder of LEARN.
The discussion centered around four points which included amongst others, taking stock of the state of piracy in Pakistan and its implications on the authors and the writing industry as a whole. In responding to the question about her experience with piracy, author of four books, Sara Naveed said,
"I have been a victim of piracy and have seen pirated copies of at least three of my books being sold for as low as Rs 150/- on various book shops. The ready access to cheaper unauthorized copies directly affects the rights of the author and the publisher but still there is rampant practice of selling illegal and unauthorized books in the market."
It was noted that book piracy can lead to substantial economic loss and revenue. Nida Usman shared harrowing numbers with the panelists and stated that she found loses being valued at over Rs. 40 million annually due to book piracy in Pakistan by several industry experts and publishers. "The issue of book piracy is therefore, not just about the infringement of personal rights of the authors and/or publishers, but also about the deprivation of revenue and loss to the country's national exchequer on the whole", she added.
Author of 'In the Company of Strangers' and founder of The Writing Institute Awais Khan stated that he will take legal action against any sellers of pirated copies of his book and will report all social media posts and pages advertising the same. "It is these pages that are the hub from where these sellers operate nowadays and I will report them to all relevant authorities," he explained.
Mehr F Husayn expressed her dismay over lack of outrage against piracy in the country as well as the lack of awareness that selling pirated copies is a crime. She said, "[piracy] amounts to stealing someone's hard work. When an author puts in their heart and soul into a project they have every right to share what they are suffering as a result of piracy or other discriminatory policies hampering their book and its access to markets and to take necessary action where need be to curb such a menace." She stressed on the importance of seeking legal advice throughout the publishing and distribution process as a measure that an author can take to protect their interests.
"Is it however, fair to put the entire burden on authors to keep track of piracy of their books and to press for action against it?" asked Nida.
The panelists commented that it was not and agreed that a collective voice was needed to amplify their rights and take up these matters officially with the authorities and concerned persons. They noted that despite there being law on paper, not much was implemented as with all other laws and if the authorities would be doing their job this wouldn't fall onto the shoulders of authors. The support structure however, was missing from the writing scene in Pakistan and they urged all stakeholders and the readers to support them in this process.
The panelists seemed to agree that one of the reasons that piracy was so rampant in Pakistan was the flawed argument that people cannot afford books at their original market price. Mehr questioned whether such unauthorized publications would be allowed to continue if the books of Pakistani authors were published by local publishers. "Had the publishers of these books been local, we might have seen a stronger response and reaction against pirated copies," She added.
"There is a strong and dire need to create awareness around piracy – which is a crime as it is, in order to curb this menace," said Faiqa Mansab. She agreed that economic argument from the perspective of losses to Pakistan as a whole and to the writing industry in particular could be a good way to challenge piracy. She also highlighted that there was a difference between 'piracy' which is unauthorized reproduction of an author's work and 'distribution' and that there should be no confusion that, "as authors we stand against piracy and not against distribution of original work."
"The answer to your question on balancing rights of access to books in a poor country like Pakistan vis a vis preserving the intellectual rights of the authors lies in rethinking libraries," suggested Awais Khan.
"We just want the readers to appreciate and understand why it is important to invest in the original books and if someone cannot afford the original book, it is better to ask friends around to lend the book for reading or develop books clubs and other reading communities to share books even if investment in revamping public libraries is a distant goal," he added. "Nowadays, it is not just a challenge of fighting piracy on ground but a bigger challenge is to fight online piracy in shape of PDF versions of the books which get circulated even before the official release of the original books," he highlighted.
However, as pointed out by an attendee, original books published abroad can take years to reach Pakistan and avid readers are left with no options other than to request or look for PDF versions. He suggested that concerted efforts to improve the supply chain and market access could reduce the need to resort to these measures. The panelists were happy to engage with the audience and to take their feedback.
To mark the 1 year celebration of our #RethinkingWriting initiative, Lahore Education and Research Network is jointly hosting a short online session on 'PIRACY & THE WRITING INDUSTRY' along with The Writing Institute tomorrow from 3:30 to 4:10 pm.
Panelists include:
1. Faiqa Mansab (Author)
2. Mehr F Hussayn (Author/Editor)
3. Sara Naveed (Author)
4. Awais Khan (Author/Founder – The Writing Institute
5. Bilal Zahoor (Folio Books/Publisher)
6. Nida Usman (Moderator)
Discussion Points:
1. The state of piracy in Pakistan and its implications on the business/authors
2. What steps are needed to address the issue of Piracy and who has the responsibility for this?
3. Right to Access vs IP Rights – case for reviving public libraries?
4. Book bans, piracy and hostile policies
How to Join the Meeting?
Join Zoom Meeting
https://zoom.us/j/94566266269
Meeting ID: 945 6626 6269