The Perils of Social Media: Mental Health and Diminishing Space
On Saturday, 20th June 2020, Lahore Education and Research Network (LEARN) hosted an in-house discussion on 'The Perils of Social Media: Mental Health and Diminishing Space'. The discussion was organised with support from Ms. Jugnoo Kazmi who is the Women in Law Initiative Pakistan's (WIL) Chapter Lead in Islamabad.
The participants for the discussion included, Ms. Valerie Khan Executive Director of Group Development Pakistan, Ms. Zoe Richards , lawyer and women's rights activist, Ms. Elaine Alam, General Secretary, Faces Pakistan, Mr. Hisham Khan from Pakistan Youth Change Advocates, Ms. Umaima Tahir Wadood, journalist and online blogger, Ms. Ramla Baig, advocate, Barrister Maryam Khan, Ms. Asha Singhania, WOZA – Women in Law South Africa, Ms. Jannat Ali Kalyar, Cyber Laws and Digital Security practitioner, Ms. Zeeba Hashmi, peace education consultant , Ms. Eamaan Bandial, advocate, Ms. #ImaanMazari, advocate, Ms. Ayesha Siddique Khan, advocate and gender rights activist, Ms. #BenazirJatoi, advocate, Ms. #MahnoorWaqar, advocate, Ms. #FatimaAwan, HR Executive Getz Pharma, advocate #MaimanaKhattak and advocate #NoorMandvivala.
The discussion was moderated jointly by Ms. Nida Usman Chaudhary, founder LEARN & Women in Law Initiative, Pakistan and Ms. Jugnoo Kazmi, WIL- Islamabad Chapter Lead.
The discussion aimed to look at some of the perils of social media and to take stock of how those may affect different vulnerable groups particularly in the context of their diminishing space and freedom of expression as well as the mental health implications of the online violence and abuse.
One of the leading questions under discussion related to the politicisation of social media and whether that was a factor affecting diminishing online space and creating mental health implications.
In recent years, the use of social media has been revolutionised and there is increased reliance on digital tools and platforms to do business, access education and to communicate with one another. The COVID-19 pandemic has further exacerbated the dependence on technology and therefore, the harmful impacts of social media can very easily target women, children, minorities, mothers, youth, certain professionals and the elderly in their own respective ways.
The participants endeavoured to identify the different sets of perils each class of persons was likely to face in their online engagement and interaction and put forth the challenges faced by lawyers, concerned authorities, and regulators in relation to creating a balance between competing rights and interests and in regulation, if any.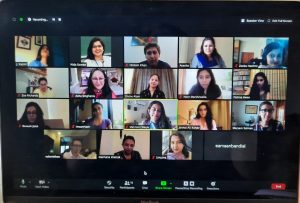 The question of who should regulate and how was also discussed as were the many perils that are associated with the regulation of use of social media.
A detailed report with key discussion points, recommendations and findings will be shared soon.
Watch this space for further updates.