10 DEC 2020, LAHORE: The Lahore Education and Research Network (LEARN) and FACES Pakistan have released a joint-study on Institutional Reforms and Holistic Policy Recommendations for Child Protection in Educational Settings in connection with the Human Rights Day.
The study is jointly authored by Nida Usman Chaudhary and Elaine Alam and is based on consultative sessions with field experts including, Valerie Khan, Executive Director of Group Development Pakistan, Advocate Miqdad Syed Naqvi, Naveen F. Rizvi, Khadija Ali, Dr. Haiqa Nasir and students as well as on in-depth research of laws, policies and other resources to document the types of abuse and challenges faced by children in educational settings, its impact on their growth, learning and future contribution in society as well as on their personal and psychological development.
The study identifies the gaps in the existing structures for prevention of abuse and protection of children in and while accessing educational settings and calls for a participatory and holistic approach to develop a child protection framework and guidelines with all stakeholders on board at federal and at provincial level, as well as including participation of students, alumni, parents, schools, madrassahs and other informal educational settings. It also calls for transformation of authoritative school structures, to ones which are participatory so that a safe and accessible avenue can be developed for children to access in event of any challenges that they may be facing.
The study further highlights the importance of gender segregated budgets to ensure transparency and commitment of funds for girl child.
It can be accessed here: https://bit.ly/3lXF5M4
Women in Law Initiative Pakistan is joining hands with Ananke digital magazine based in UAE for its Girl Summit to be held online on 29th October 2020.
We are curating 'The Ginsburg Panel' where our Islamabad Chapter Lead, Jugnoo Kazmi will be in conversation with a global panel assessing the impact of affirmative actions for representation of women in the legal profession.
Panelists include:
1. Barrister Jennifer Youngs – UK
2. Rehana Khan Parker – South Africa
3. Laura Dlepu – South Africa
For more details visit: https://anankemag.com/
Here's presenting our "YEAR IN REVIEW 2019-20"
http://learnpak.com.pk/wp-content/uploads/2020/07/updated-Year-in-review-2019-20.pdf
This year, it got a bit delayed but our team has worked hard to put this together despite the pandemic.
We are so proud of them all for their invaluable input and support.
Awesome members of #womeninlaw representing this platform at the
@WOWPKcommunity career series this week:
Catch:
@noorejazch, @WaizaRafique, @RJFatimaKhan and #shizarehman in conversation with @ZeeaHasanTalib
on Wed 8th July at 4 pm on wowpk Facebook page live.
Last year on 7th July we launched our #womeninlaw Islamabad chapter and today we are celebrating its 1st birthday.
In this time our Islamabad family has grown, we started the journey with our session titled, 'from access to advancement' last year where sitting MNA #ShandanaGulzarKhan joined us as our Chief Guest and where Umair Baloch then secretary IHCBA graced the occasion as our Guest of Honour.
We also launched the career development series with the amazing Sarah Kazmi, had mentoring session with select candidates under a programme led by #KhadijaAli, shared several job and learning opportunities with the members, found ourselves a Chapter Lead in Islamabad in Jugnoo Kazmi and supported an event by Chevening Alumni on Gender and Law held in March.
Today, to mark the 1 year of women in law and its efforts in Islamabad, we spoke to the Legal Education and Gender Committee of Islamabad High Court Bar Association and are grateful for the opportunity to share our experiences and our journey on their platform.
Support and Solidarity are the crux of this initiative and we are happy to have received that and a lot more from everyone in Islamabad who has been so supportive and welcoming of us and of the initiative and its objectives.
Our special thanks to Advocate Rahat Kaunain Nafees, Ayesha Siddique Khan, Minahil Khan, Huma Jameel Babur, #AmnaAbbas, Benazir Jatoi, Hina Fk and all the members of the Islamabad chapter for their contribution to make this a success.
A shout out to those who supported the launch from Lahore last year and went all the way to Islamabad with us:
Waiza Rafique Maria Chaudhry Maryam Khan Alizeh Akbar Meer
RE: WITHIN THE STATE, WITHOUT IDENTITY: STATELESSNESS IN PAKISTAN
At 3 pm tomorrow we have a very important session on a topic that has not been discussed so often. To join: send us your name, designation and contact details at info@learnpak.com.pk
Duration: 1 Hour.
After the overwhelming response we have managed to arrange this follow up session for the Q and A so all your queries can be addressed.
There will be no recording for this session so please ensure participation for the Q and A.
All prior questions will also be taken up and new ones may also be pre-shared at the email given. Looking forward to your wholehearted participation again.
For login details write to betinomisogyny@gmail.com by or before 25th June 2020.
On Saturday, 20th June 2020, Lahore Education and Research Network (LEARN) hosted an in-house discussion on 'The Perils of Social Media: Mental Health and Diminishing Space'. The discussion was organised with support from Ms. Jugnoo Kazmi who is the Women in Law Initiative Pakistan's (WIL) Chapter Lead in Islamabad.
The participants for the discussion included, Ms. Valerie Khan Executive Director of Group Development Pakistan, Ms. Zoe Richards , lawyer and women's rights activist, Ms. Elaine Alam, General Secretary, Faces Pakistan, Mr. Hisham Khan from Pakistan Youth Change Advocates, Ms. Umaima Tahir Wadood, journalist and online blogger, Ms. Ramla Baig, advocate, Barrister Maryam Khan, Ms. Asha Singhania, WOZA – Women in Law South Africa, Ms. Jannat Ali Kalyar, Cyber Laws and Digital Security practitioner, Ms. Zeeba Hashmi, peace education consultant , Ms. Eamaan Bandial, advocate, Ms. #ImaanMazari, advocate, Ms. Ayesha Siddique Khan, advocate and gender rights activist, Ms. #BenazirJatoi, advocate, Ms. #MahnoorWaqar, advocate, Ms. #FatimaAwan, HR Executive Getz Pharma, advocate #MaimanaKhattak and advocate #NoorMandvivala.
The discussion was moderated jointly by Ms. Nida Usman Chaudhary, founder LEARN & Women in Law Initiative, Pakistan and Ms. Jugnoo Kazmi, WIL- Islamabad Chapter Lead.
The discussion aimed to look at some of the perils of social media and to take stock of how those may affect different vulnerable groups particularly in the context of their diminishing space and freedom of expression as well as the mental health implications of the online violence and abuse.
One of the leading questions under discussion related to the politicisation of social media and whether that was a factor affecting diminishing online space and creating mental health implications.
In recent years, the use of social media has been revolutionised and there is increased reliance on digital tools and platforms to do business, access education and to communicate with one another. The COVID-19 pandemic has further exacerbated the dependence on technology and therefore, the harmful impacts of social media can very easily target women, children, minorities, mothers, youth, certain professionals and the elderly in their own respective ways.
The participants endeavoured to identify the different sets of perils each class of persons was likely to face in their online engagement and interaction and put forth the challenges faced by lawyers, concerned authorities, and regulators in relation to creating a balance between competing rights and interests and in regulation, if any.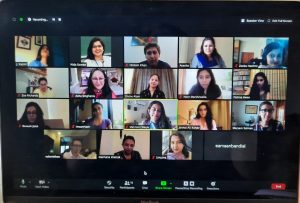 The question of who should regulate and how was also discussed as were the many perils that are associated with the regulation of use of social media.
A detailed report with key discussion points, recommendations and findings will be shared soon.
Watch this space for further updates.
Has politicisation of social media led to diminishing space and poor mental health?
We held an in-house discussion to take stock of this and other challenges for vulnerable groups including children, women, minorities, youth and the elderly; see: